Overview
My name is Heather Waite, from Findlay, Ohio.  Pierce's Crew's vision was inspired by my son, Pierce, who is an incredible 12 year old with autism.  I found myself wanting to help him any way I could to see him succeed.  I could see first hand the difficulties he endured on a daily basis.  With the help and guidance of several people, including doctors and teachers, we were able to get Pierce into the programs and therapies he needed. We started to see progress in him, but we also started to feel the financial strain from these services as they are not always covered by insurance. So that is what has lead me to start this foundation.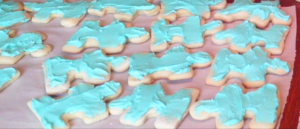 We started with small efforts in 2013 by spreading awareness of autism in his school; to help kids understand autism.  We made cookies for everyone in the school (around 250) and passed them out to each classroom.  We also lit the school up blue for the Light It Up Blue Campaign. We also made up small kits to pass out in our neighborhood.  Our neighbors were very supportive and all put the blue light in their porch light to support our efforts.
We also held our first Pancake Breakfast, April 2013, to raise money to support autism awareness.  We raised $1,510 our first year! That money was donated to Autism Speaks and Awakening Minds Art in Findlay, Ohio.  The second annual Pancake Breakfast for Autism will be held April 5th, 2014 at Waldo Peppers, Findlay Ohio.  This year we decided to keep all of the funds raised in our community to help local families and individuals with autism and special needs.
Our goal at Pierce's Crew Foundation, is to help families that live in Hancock and neighboring counties with the cost of therapies and programs for their children or family members. These services may include (not limited to):
Art therapy
Social groups
Horseback riding
Occupational therapy
Speech
Ice skating
Dance
Music
These experiences are important for those with autism and special needs to bely them with their social interactions.
This foundation would not be possible without sponsors and donors from our community. All donationsare considered tax deductible as Pierce's Crew is a committee of Awakening Minds, a 501c3 organization.
Visited 2450 times, 1 Visit today